Im Jahr 2011 wurde eine Podcast-Reihe namens Random Seed ins Leben gerufen.

Initiiert vom Label Equinox Records, welches von 2002 bis 2013 existierte, gab es zehn Ausgaben/Mixe von Künstlern wie zum Beispiel Andreikelos, DJ Scientist, Misanthrop, Godblesscomputers, … zu hören. Neben diesen großartigen Musikern habe auch ich – sogar zweimal – Mixe veröffentlicht, welche exklusiv für diese Serie produziert wurden. Und genau diese zwei Mixe könnt ihr euch ab sofort hier in aller Ruhe anhören. Wer auch alle anderen Folgen von Random Seed genießen möchte, besucht einfach die Random Seed Mixcloud-Seite.
DJ Scientist:
Random Seed is a podcast series from Equinox Records.
The series will feature mixes by friends and like
minded artists from around the world.
Random Seed Episode 3 by DJ CanNikZ (35:20 Min)

Tracklist
[Phonatic – Random Seed Intro]
El-P – Dream theme
Genaside II – Come to the fools (feat. Sharon Williams)
Doze – Space attack
Ground Zero – Take over
DJ Shadow – Closing credits
DJ Cam – Underground vibes
DJ Krush – Bypath-Would you take it (Static Mix)
Glen Porter – I sat alone
40 Winks – Sketch
Vario – Krylo's tune
Der Tobi & Das Bo – Psychiatrie (Instrumental)
Pop Will Eat Itself – Underbelly (Renegade Soundwave Mix)
Random Seed Episode 8 by DJ CanNikZ (68:44 Min)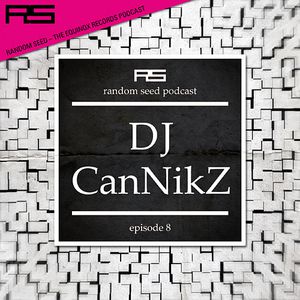 Tracklist
[Phonatic – Random Seed Intro]
Omega One – Still Cambodia (Instrumental)
Omega One – Coup d'Etat (Instrumental)
IAM – La mort n'est pas une fin
Moonshine – The origin of species
The Herbaliser – Moon sequence
Kaman Leung – As hope fades
Arts the Beatdoctor – Irreversible
Kemui & Inner Science – Axis of evil (Instrumental)
Kemui & Inner Science – Axis of evil (Vocal)
2econd Class Citizen – Outside your doorway (Know My Soul Mix)
DJ Shadow – Intermission 3
Pure Filth / Ne-Grove – Should've been you (Instrumental)
Voom:Voom – Ginger & Fred
Summerland – Soulmate (Migs Petalpusher Bump)
Armand van Helden – Ultrafunkula
Marschmellows – El Barrio Caliente
Clam Digger – Unbelievable (Club Mix)
Freedom Satellite – Easy (Marschmellows Remix)
The Alliance – Action! (More than … 4 Minutes Dub)
DJ Kofi – Without me Remix (Eminem vs. Nirvana)